Douglas J. Pepe is a Partner of the Firm. He defends major law firms in high-stakes legal malpractice cases and litigates complex commercial matters on behalf of corporate and institutional clients.  Representative cases involve complex issues under the securities laws and the RICO Act; fiduciary, contractual and pre-contractual liability; domestic and multinational corporate, class action and derivative litigation; and insurance subrogation, mass tort, aircraft disaster and terrorism litigation.  Mr. Pepe has both prosecuted and defended billions of dollars in claims implicating a wide variety of complex substantive and procedural issues. He played a leading role on the Court-appointed Executive Committee charged with directing the subrogation and property damage claims arising out of the 9/11 terrorist attack, which were successfully resolved in a $1.2 billion settlement approved by the United States Court of Appeals for the Second Circuit in April 2011.
Mr. Pepe joined the Firm at its inception in 2001. In 2002–2003, he clerked for United States District Judge Faith S. Hochberg of the United States District Court for the District of New Jersey. From 1999-2001, he was an associate at Fried, Frank, Harris, Shriver & Jacobson LLP, where he practiced in both the Corporate and Litigation departments, working principally in the fields of Mergers & Acquisitions, White Collar Criminal Investigations and Securities Litigation.
He is a graduate with the highest honors at Columbia Law School (J.D. 1999; Chancellor Kent Scholar), and the State University of New York at Buffalo (B.A. 1996; summa cum laude).
Mr. Pepe is a member of the American Law Institute, the preeminent independent organization in the US producing scholarly work to clarify, modernize, and otherwise improve the law. He is an adjunct professor of law at The George Washington University School of Law, where he teaches blockchain law and technology. He is a Fellow of the Litigation Counsel of America, a trial lawyer honorary society composed of less than one-half of one percent of American lawyers. Super Lawyers magazine has named Mr. Pepe to its "New York Super Lawyers" list since 2013 and, before that, to its "New York Rising Stars" list for Business Litigation.
Mr. Pepe is the author of numerous articles on complex commercial litigation issues that have been cited in legal treatises, law reviews and other professional journals, and the commentaries to the New York Civil Practice Law and Rules.
He is admitted to practice in New York, New Jersey, the United States Supreme Court, the United States Courts of Appeals for the Second Circuit, Ninth Circuit and Federal Circuit, and numerous U.S. District Courts.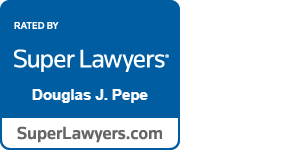 One of Top 10 Lawyers in New York City – NEW YORK SUPER LAWYERS™; 2018, 2017, 2016, 2015, 2014
One of top 30 litigators in the US (2017) BEST OF THE BEST USA™
One of Top 100 Trial Lawyers in US- Benchmark Litigation™; 2016 and 2014
"The leading authority on sanctions law" – Sec. Nat'l Bank v. Jones Day, 800 F.3d 936, 944 (8th Cir. 2015)
Best Litigation Law Firm –European CEO Awards 2014™; 2014
Best Litigation Department USA and Best Dispute Resolution Firm USA –WORLD FINANCE LEGAL AWARDS 2014™; 2014
One of top 30 litigators in the world – BEST OF THE BEST™; 2013
Best Lawyer USA 2012, and Best Dispute Resolution Firm USA 2013 and 2012–WORLD FINANCE LEGAL AWARDS™
Lawyer of the Year 2013- Arbitration – New York City – BEST LAWYERS™
One of the top 25 litigators in the world – BEST OF THE BEST 2011™
National Law Journal Profile of Firm, May 23, 2011 Taking on Big Financial Cases that the Big Firms Won't
Lawyer of the Year – Bet-the-Company-Litigation – New York BEST LAWYERS™; 2011